Hello Fiction Dwellers!
The year is coming to an end and 2022 is around the corner. To prepare for the new year, I wanted to make this list of the books I'm anticipating set to release next year. One of my goals for 2022 is to be more picky about my reads because in 2021 I kept getting distracted with new releases that I didn't really want to read but did it anyway because of the hype. They end up being mostly 'meh' and no-no reads for me, so to prevent that I declare 2022 to be Picky Lia year. I will also prioritize adult books instead of young adult books but this doesn't mean I will not read young adult books. It will just be lesser in quantity. Hence, the list will be shorter compared to my 2021 anticipated releases post.
Note : I will update this post every month in 2022.
Overview :
DEBUT
Daughter of the Moon Goddess (The Celestial Kingdom #1) by Sue Lynn Tan
Release Date : January 11th 2022 (US), January 20th 2022 (UK)
Synopsis
Growing up on the moon, Xingyin is accustomed to solitude, unaware that she is being hidden from the feared Celestial Emperor who exiled her mother for stealing his elixir of immortality. But when Xingyin's magic flares and her existence is discovered, she is forced to flee her home, leaving her mother behind.
Alone, powerless, and afraid, she makes her way to the Celestial Kingdom, a land of wonder and secrets. Disguising her identity, she seizes an opportunity to learn alongside the emperor's son, mastering archery and magic, even as passion flames between her and the prince.
To save her mother, Xingyin embarks on a perilous quest, confronting legendary creatures and vicious enemies across the earth and skies. But when treachery looms and forbidden magic threatens the kingdom, she must challenge the ruthless Celestial Emperor for her dream—striking a dangerous bargain in which she is torn between losing all she loves or plunging the realm into chaos.
Daughter of the Moon Goddess begins an enchanting, romantic duology which weaves ancient Chinese mythology into a sweeping adventure of immortals and magic—where love vies with honor, dreams are fraught with betrayal, and hope emerges triumphant.
Goodreads | Amazon | BookDepository
---
Only A Monster (Monsters #1) by Vanessa Len
Release Date : 17th February 2022 (UK) & 22nd February 2022 (US)
Synopsis
It should have been the perfect summer. Sent to stay with her late mother's eccentric family in London, sixteen-year-old Joan is determined to enjoy herself. She loves her nerdy job at the historic Holland House, and when her super cute co-worker Nick asks her on a date, it feels like everything is falling into place.
But she soon learns the truth. Her family aren't just eccentric: they're monsters, with terrifying, hidden powers. And Nick isn't just a cute boy: he's a legendary monster slayer, who will do anything to bring them down.
As she battles Nick, Joan is forced to work with the beautiful and ruthless Aaron Oliver, heir to a monster family that hates her own. She'll have to embrace her own monstrousness if she is to save herself, and her family. Because in this story . . . . . she is not the hero.
Goodreads | Amazon | BookDepository
---
The Circus Infinite by Khan Wong
Release Date : 8 March 2022
Synopsis
Hunted by those who want to study his gravity powers, Jes makes his way to the best place for a mixed-species fugitive to blend in: the pleasure moon. Here, everyone just wants to be lost in the party. It doesn't take long for him to catch the attention of the crime boss who owns the resort-casino where he lands a circus job. When the boss gets wind of the bounty on Jes' head, he makes an offer: do anything and everything asked of him, or face vivisection.
With no other options, Jes fulfills the requests: espionage, torture, demolition. But when the boss sets the circus up to take the fall for his about-to-get-busted narcotics operation, Jes and his friends decide to bring the mobster down together. And if Jes can also avoid going back to being the prize subject of a scientist who can't wait to dissect him? Even better.
Goodreads | Amazon | BookDepository
---
Kaikeyi by Vaishnavi Patel
Release Date : 26th April 2022
Synopsis
"I was born on the full moon under an auspicious constellation, the holiest of positions—much good it did me."
So begins Kaikeyi's story. The only daughter of the kingdom of Kekaya, she is raised on tales about the might and benevolence of the gods: how they churned the vast ocean to obtain the nectar of immortality, how they vanquish evil and ensure the land of Bharat prospers, and how they offer powerful boons to the devout and the wise. Yet she watches as her father unceremoniously banishes her mother, listens as her own worth is reduced to how great a marriage alliance she can secure. And when she calls upon the gods for help, they never seem to hear.
Desperate for some measure of independence, she turns to the texts she once read with her mother and discovers a magic that is hers alone. With this power, Kaikeyi transforms herself from an overlooked princess into a warrior, diplomat, and most favored queen, determined to carve a better world for herself and the women around her.
But as the evil from her childhood stories threatens the cosmic order, the path she has forged clashes with the destiny the gods have chosen for her family. And Kaikeyi must decide if resistance is worth the destruction it will wreak—and what legacy she intends to leave behind.
Goodreads | Amazon | BookDepository
---
The Stardust Thief by Chelsea Abdullah
Release Date : 17th May 2022
Synopsis
Neither here nor there, but long ago… Loulie al-Nazari is the Midnight Merchant: a criminal who, with the help of her jinn bodyguard, hunts and sells illegal magic. When she saves the life of a cowardly prince, she draws the attention of his powerful father, the sultan, who blackmails her into finding an ancient lamp that has the power to revive the barren land.
With no choice but to obey or be executed, Loulie journeys with the sultan's oldest son to find the artifact. Aided by her bodyguard, who has secrets of his own, they must survive ghoul attacks, outwit a vengeful jinn queen, and confront a malicious killer from Loulie's past. And, in a world where story is reality and illusion is truth, Loulie will discover that everything—her enemy, her magic, even her own past—is not what it seems.
Goodreads | Amazon | BookDepository
---
The Book Eaters by Sunyi Dean
Release Date : 22 May 2022
Synopsis
Sunyi Dean's The Book Eaters is a contemporary fantasy debut. It's a story of motherhood, sacrifice, and hope; of queer identity and learning to accept who you are; of gilded lies and the danger of believing the narratives others create for you.
Out on the Yorkshire Moors lives a secret line of people for whom books are food, and who retain all of a book's content after eating it. To them, spy novels are a peppery snack; romance novels are sweet and delicious. Eating a map can help them remember destinations, and children, when they misbehave, are forced to eat dry, musty pages from dictionaries.
Devon is part of The Family, an old and reclusive clan of book eaters. Her brothers grow up feasting on stories of valor and adventure, and Devon—like all other book eater women—is raised on a carefully curated diet of fairytales and cautionary stories.
But real life doesn't always come with happy endings, as Devon learns when her son is born with a rare and darker kind of hunger—not for books, but for human minds.
Goodreads | Amazon | BookDepository
---
The Ballad of Perilous Graves by Alex Jennings
Release Date : 21st June 2022
Synopsis
In a fantastical version of New Orleans where music is magic, a battle for the city's soul brews between two young mages, a vengeful wraith, and one powerful song in this vibrant and imaginative debut.
Nola is a city full of wonders. A place of sky trolleys and dead cabs, where haints dance the night away and Wise Women keep the order, and where songs walk, talk and keep the spirit of the city alive. To those from Far Away, Nola might seem strange. To failed magician, Perilous Graves, it's simply home. Then the rhythm stutters.

Nine songs of power have escaped from the magical piano that maintains the city's beat and without them, Nola will fail. Unexpectedly, Perry and his sister, Brendy, are tasked with saving the city. But a storm is brewing and the Haint of All Haints is awake. Even if they capture the songs, Nola's time might be coming to an end.
Goodreads | Amazon | BookDepository
---
The Final Strife (The Final Strife Trilogy #1) by Saara El-Arifi
Release Date : 23rd June 2022
Synopsis
In the first book of a visionary African and Arabian-inspired adult fantasy trilogy, three women band together against a cruel Empire that divides people by blood.
Red is the blood of the elite, of magic, of control.
Blue is the blood of the poor, of workers, of the resistance.
Clear is the blood of the servants, of the crushed, of the invisible.
Sylah dreams of days growing up in the resistance, being told she would spark a revolution that would free the Empire from the red-blooded ruling classes' tyranny. That spark was extinguished the day she watched her family murdered before her eyes.
Anoor has been told she's nothing, no one, a disappointment by the only person who matters: her mother, the most powerful ruler in the Empire. But dust always rises in a storm.
Hassa moves through the world unseen by upper classes, so she knows what it means to be invisible. But invisibility has its uses: It can hide the most dangerous of secrets, secrets that can reignite a revolution.
As the Empire begins a set of trials of combat and skill designed to find its new leaders, the stage is set for blood to flow, power to shift, and cities to burn.
Goodreads | Amazon | BookDepository
---
Violet Made of Thorns (Untitled Duology #1) by Gina Chen
Release Date : 26th July 2022
Synopsis
A darkly enchanting fantasy debut about a morally gray witch, a cursed prince, and a prophecy that ignites their fate-twisted destinies—perfect for fans of The Cruel Prince and Serpent & Dove.
Violet is a prophet and a liar, influencing the royal court with her cleverly phrased—and not always true—divinations. Honesty is for suckers, like the oh-so-not charming Prince Cyrus, who plans to strip Violet of her official role once he's crowned at the end of the summer—unless Violet does something about it.
But when the king asks her to falsely prophesy Cyrus's love story for an upcoming ball, Violet awakens a dreaded curse, one that will end in either damnation or salvation for the kingdom—all depending on the prince's choice of future bride. Violet faces her own choice: Seize an opportunity to gain control of her own destiny, no matter the cost, or give in to the ill-fated attraction that's growing between her and Cyrus.
Violet's wits may protect her in the cutthroat court, but they can't change her fate. And as the boundary between hatred and love grows ever thinner with the prince, Violet must untangle a wicked web of deceit in order to save herself and the kingdom—or doom them all.
Goodreads | Amazon | BookDepository
NEW STAND ALONES & SERIES
The Justice of Kings (Empire of the Wolf #1) by Richard Swan
Release Date : 22nd February2022
Synopsis
The Justice of Kings, the first in a new epic fantasy trilogy, follows the tale of Sir Konrad Vonvalt, an Emperor's Justice – a detective, judge and executioner all in one. As he unravels a web of secrets and lies, Vonvalt discovers a plot that might destroy his order once and for all – and bring down the entire Empire.
As an Emperor's Justice, Sir Konrad Vonvalt always has the last word. His duty is to uphold the law of the empire using whatever tools he has at his disposal: whether it's his blade, the arcane secrets passed down from Justice to Justice, or his wealth of knowledge of the laws of the empire. But usually his reputation as one of the most revered—and hated—Justices is enough to get most any job done.
When Vonvalt investigates the murder of a noblewoman, he finds his authority being challenged like never before. As the simple case becomes more complex and convoluted, he begins to pull at the threads that unravel a conspiracy that could see an end to all Justices, and a beginning to lawless chaos across the empire.
Goodreads | Amazon | BookDepository
---
The City of Dusk by Tara Sim
Release Date : 22nd March 2022
Synopsis
Set in a gorgeous world of bone and shadow magic, of vengeful gods and defiant chosen ones, The City of Dusk is the first in a dark epic fantasy trilogy that follows the four heirs of four noble houses—each gifted with a divine power—as they form a tenuous alliance to keep their kingdom from descending into a realm-shattering war.
The Four Realms—Life, Death, Light, and Darkness—all converge on the city of dusk. For each realm there is a god, and for each god there is an heir.
But the gods have withdrawn their favor from the once vibrant and thriving city. And without it, all the realms are dying.
Unwilling to stand by and watch the destruction, the four heirs—Risha, a necromancer struggling to keep the peace; Angelica, an elementalist with her eyes set on the throne; Taesia, a shadow-wielding rogue with rebellion in her heart; and Nik, a soldier who struggles to see the light— will sacrifice everything to save the city.
But their defiance will cost them dearly.
Goodreads | Amazon | BookDepository
---
Wild and Wicked Things by Francesca May
Release Date : 29th March 2022
Synopsis
On Crow Island, people whisper, real magic lurks just below the surface.
Neither real magic nor faux magic interests Annie Mason. Not after it stole her future. She's only on the island to settle her late father's estate and, hopefully, reconnect with her long-absent best friend, Beatrice, who fled their dreary lives for a more glamorous one.
Yet Crow Island is brimming with temptation, and the biggest one may be her enigmatic new neighbor.
Mysterious and alluring, Emmeline Delacroix is a figure shadowed by rumors of witchcraft. And when Annie witnesses a confrontation between Bea and Emmeline at one of the island's extravagant parties, she is drawn into a glittering, haunted world. A world where the boundaries of wickedness are tested, and the cost of illicit magic might be death.
Goodreads | Amazon | BookDepository
---
Siren Queen by Nghi Vo
Release Date : 10th May 2022
Synopsis
It was magic. In every world, it was a kind of magic.
"No maids, no funny talking, no fainting flowers." Luli Wei is beautiful, talented, and desperate to be a star. Coming of age in pre-Code Hollywood, she knows how dangerous the movie business is and how limited the roles are for a Chinese American girl from Hungarian Hill—but she doesn't care. She'd rather play a monster than a maid.
But in Luli's world, the worst monsters in Hollywood are not the ones on screen. The studios want to own everything from her face to her name to the women she loves, and they run on a system of bargains made in blood and ancient magic, powered by the endless sacrifice of unlucky starlets like her. For those who do survive to earn their fame, success comes with a steep price. Luli is willing to do whatever it takes—even if that means becoming the monster herself.
Siren Queen offers up an enthralling exploration of an outsider achieving stardom on her own terms, in a fantastical Hollywood where the monsters are real and the magic of the silver screen illuminates every page.
Goodreads | Amazon | BookDepository
---
A Taste of Gold and Iron by Alexandra Rowland
Release Date : 21st June 2022
Synopsis
Kadou, the shy prince of Arasht, finds himself at odds with one of the most powerful ambassadors at court—the body-father of the queen's new child—in an altercation which results in his humiliation.
To prove his loyalty to the queen, his sister, Kadou takes responsibility for the investigation of a break-in at one of their guilds, with the help of his newly appointed bodyguard, the coldly handsome Evemer, who seems to tolerate him at best. In Arasht, where princes can touch-taste precious metals with their fingers and myth runs side by side with history, counterfeiting is heresy, and the conspiracy they discover could cripple the kingdom's financial standing and bring about its ruin.
Goodreads | Amazon | BookDepository
---
The City Inside by Samit Basu
Release Date : 7th June 2022
Synopsis
This near-future epic by the internationally celebrated Samit Basu pulls no punches as it comes for your anxieties about society, government, the environment, and our world at large—yet never loses sight of the hopeful potential of the future.
"They'd known the end times were coming but hadn't known they'd be multiple choice."
Joey is a Reality Controller in near future Delhi. Her job is to supervise the multimedia multi-reality livestreams of Indi, one of South Asia's fastest rising online celebrities—who also happens to be her college ex. Joey's job gives her considerable culture-power, but she's too caught up in day-to-day crisis-handling to see this, or to figure out what she wants from her life.
Rudra is a recluse estranged from his wealthy and powerful family, fled to an impoverished immigrant neighborhood where he loses himself in video games and his neighbors' lives. When his father's death pulls him back into his family's orbit, an impulsive job offer from Joey becomes his only escape from the life he never wanted.
But no good deed goes unpunished. As Joey and Rudra become enmeshed in multiple conspiracies, their lives start to spin out of control, complicated by dysfunctional relationships, corporate loyalty, and the never-ending pressures of surveillance capitalism. When a bigger picture begins to unfold around them, they must each decide how to do the right thing in a shadowy world where simply maintaining the status quo feels like an accomplishment. Ultimately, resistance will not—cannot—take the same shape for these two very different people.
Goodreads | Amazon | BookDepository
---
Babel, or The Necessity of Violence: An Arcane History of the Oxford Translators' Revolution by R. F. Kuang
Release Date : 23rd August 2022
Synopsis
Traduttore, traditore: An act of translation is always an act of betrayal.
1828. Robin Swift, orphaned by cholera in Canton, is brought to London by the mysterious Professor Lovell. There, he trains for years in Latin, Ancient Greek, and Chinese, all in preparation for the day he'll enroll in Oxford University's prestigious Royal Institute of Translation — also known as Babel.
Babel is the world's center of translation and, more importantly, of silver-working: the art of manifesting the meaning lost in translation through enchanted silver bars, to magical effect. Silver-working has made the British Empire unparalleled in power, and Babel's research in foreign languages serves the Empire's quest to colonize everything it encounters.
Oxford, the city of dreaming spires, is a fairytale for Robin; a utopia dedicated to the pursuit of knowledge. But knowledge serves power, and for Robin, a Chinese boy raised in Britain, serving Babel inevitably means betraying his motherland. As his studies progress Robin finds himself caught between Babel and the shadowy Hermes Society, an organization dedicated to sabotaging the silver-working that supports imperial expansion. When Britain pursues an unjust war with China over silver and opium, Robin must decide: Can powerful institutions be changed from within, or does revolution always require violence? What is he willing to sacrifice to bring Babel down?
Goodreads | Amazon | BookDepository
---
The Spear Cuts Through Water by Simon Jimenez
Release Date : 30th August 2022
Synopsis
A reluctant warrior goes on the run with an ancient goddess through a lush world full of wild magic, wondrous creatures, and hidden enemies in this beautiful epic fantasy from the author of The Vanished Birds .
In the land of the Strangled Throat, the people suffer under the rule of a despotic Emperor. His sons, the Three Terrors, despoil the countryside and oppress its citizens. When Keema Daware–a fierce warrior who lost his left arm in battle–finds the mythic Empress, who has escaped from her royal imprisonment, at his sentry outpost, he must make a choice: turn her in and evade the wrath of the Three Terrors, or help her overthrow the government and free a nation.
Goodreads | Amazon | BookDepository
SEQUELS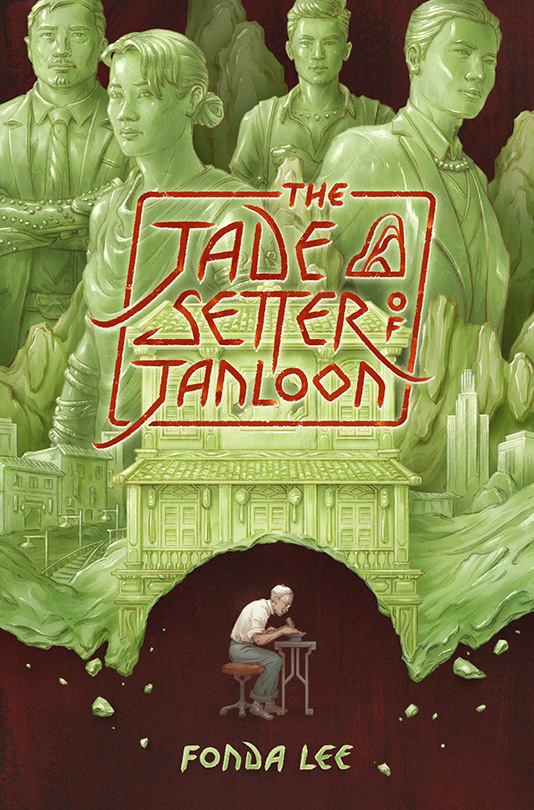 The Jade Setter of Janloon (The Green Bone Saga #0.5) by Fonda Lee
Release Date : 30th April 2022
The rapidly changing city of Janloon is ruled by jade, the rare and ancient substance that enhances the abilities and status of the trained Green Bone warriors who run the island's powerful clans.

Pulo Oritono is not one of those warriors. He's simply an apprentice jade setter with dreams of securing clan patronage and establishing a successful business. His hopes are dashed, however, when a priceless jade weapon is stolen from the shop where he works.

Now, Pulo has two days to hunt down the thief, find the jade, and return it to its rightful owner if he wants to save his future prospects, the people he cares about, and his very life. The desperate mission will lead Pulo to old vendettas, vast corruption, and questions about everything and everyone he thought he knew.
Goodreads | Subterranean Press
---
The Hunger of the Gods (Bloodsworn Saga #2) by John Gwynne
Release Date : April 2022
Synopsis
Lik-Rifa, the dragon god of legend, has been freed from her eternal prison. Now she plots a new age of blood and conquest.
As Orka continues the hunt for her missing son, the Bloodsworn sweep south in a desperate race to save one of their own – and Varg takes the first steps on the path of vengeance.
Elvar has sworn to fulfil her blood oath and rescue a prisoner from the clutches of Lik-Rifa and her dragonborn followers, but first she must persuade the Battle-Grim to follow her.
Yet even the might of the Bloodsworn and Battle-Grim cannot stand alone against a dragon god.
Their hope lies within the mad writings of a chained god. A book of forbidden magic with the power to raise the wolf god Ulfrir from the dead . . . and bring about a battle that will shake the foundations of the earth.
Goodreads | Amazon | BookDepository
---
Fevered Star (Between Earth and Sky #2) by Rebecca Roanhorse
Release Date : 19th April 2022
Synopsis
There are no tides more treacherous than those of the heart. —Teek saying
The great city of Tova is shattered. The sun is held within the smothering grip of the Crow God's eclipse, but a comet that marks the death of a ruler and heralds the rise of a new order is imminent.
The Meridian: a land where magic has been codified and the worship of gods suppressed. How do you live when legends come to life, and the faith you had is rewarded?
As sea captain Xiala is swept up in the chaos and currents of change, she finds an unexpected ally in the former Priest of Knives. For the Clan Matriarchs of Tova, tense alliances form as far-flung enemies gather and the war in the heavens is reflected upon the earth.
And for Serapio and Naranpa, both now living avatars, the struggle for free will and personhood in the face of destiny rages. How will Serapio stay human when he is steeped in prophecy and surrounded by those who desire only his power? Is there a future for Naranpa in a transformed Tova without her total destruction?
Goodreads | Amazon | BookDepository
---
Locklands (The Founders Trilogy #3) by Robert Jackson Bennett
Release Date : 21st June 2022
Synopsis
A god wages war—using all of humanity as its pawns—in the unforgettable conclusion to the Founders trilogy.
Sancia, Clef, and Berenice have gone up against plenty of long odds in the past. But the war they're fighting now is one even they can't win.
This time, they're not facing robber-baron elites, or even an immortal hierophant, but an entity whose intelligence is spread over half the globe—a ghost in the machine that uses the magic of scriving to possess and control not just objects, but human minds.
To fight it, they've used scriving technology to transform themselves and their allies into an army—a society—that's like nothing humanity has seen before. With its strength at their backs, they've freed a handful of their enemy's hosts from servitude, even brought down some of its fearsome, reality-altering dreadnaughts. Yet despite their efforts, their enemy marches on—implacable. Unstoppable.
Now, as their opponent closes in on its true prize—an ancient doorway, long buried, that leads to the chambers at the center of creation itself—Sancia and her friends glimpse a chance at reaching it first, and with it, a last desperate opportunity to stop this unbeatable foe. But to do so, they'll have to unlock the centuries-old mystery of scriving's origins, embark on a desperate mission into the heart of their enemy's power, and pull off the most daring heist they've ever attempted.
And as if that weren't enough, their adversary might just have a spy in their ranks—and a last trick up its sleeve.
Goodreads | Amazon | BookDepository
---
A Prayer for the Crown-Shy (Monk & Robot #2) by Becky Chambers
Release Date : 12th July 2022
Synopsis
After touring the rural areas of Panga, Sibling Dex (a Tea Monk of some renown) and Mosscap (a robot sent on a quest to determine what humanity really needs) turn their attention to the villages and cities of the little moon they call home.
They hope to find the answers they seek, while making new friends, learning new concepts, and experiencing the entropic nature of the universe.
Becky Chambers's new series continues to ask: in a world where people have what they want, does having more even matter?
Goodreads | Amazon | BookDepository
---
The Oleander Sword (Burning Kingdoms #2) by Tasha Suri
Release Date : 16th August 2022
Synopsis
The prophecy of the nameless god—the words that declared Malini the rightful empress of Parijatdvipa—has proven a blessing and curse. She is determined to claim the throne that fate offered her. But even with the strength of the rage in her heart and the army of loyal men by her side, deposing her brother is going to be a brutal and bloody fight.
The power of the deathless waters flows through Priya's blood. Thrice born priestess, Elder of Ahiranya, Priya's dream is to see her country rid of the rot that plagues it: both Parijatdvipa's poisonous rule, and the blooming sickness that is slowly spreading through all living things. But she doesn't yet understand the truth of the magic she carries.
Their chosen paths once pulled them apart. But Malini and Priya's souls remain as entwined as their destinies. And they soon realize that coming together is the only way to save their kingdom from those who would rather see it burn—even if it will cost them.
Goodreads | Amazon | BookDepository
---
Into the Riverlands (The Singing Hills Cycle #3) by Nghi Vo
Release Date : 25th October 2022
Synopsis
Wandering cleric Chih of the Singing Hills travels to the riverlands to record tales of the notorious near-immortal martial artists who haunt the region. On the road to Betony Docks, they fall in with a pair of young women far from home, and an older couple who are more than they seem. As Chih runs headlong into an ancient feud, they find themselves far more entangled in the history of the riverlands than they ever expected to be.
Accompanied by Almost Brilliant, a talking bird with an indelible memory, Chih confronts old legends and new dangers alike as they learn that every story—beautiful, ugly, kind, or cruel—bears more than one face.
Goodreads | Amazon | BookDepository
---
Nona the Ninth (The Locked Tomb #3) by Tamsyn Muir
Release Date : 13th September 2022
Synopsis
Her city is under siege.
The zombies are coming back.
And all Nona wants is a birthday party.
In many ways, Nona is like other people. She lives with her family, has a job at her local school, and loves walks on the beach and meeting new dogs. But Nona's not like other people. Six months ago she woke up in a stranger's body, and she's afraid she might have to give it back.
The whole city is falling to pieces. A monstrous blue sphere hangs on the horizon, ready to tear the planet apart. Blood of Eden forces have surrounded the last Cohort facility and wait for the Emperor Undying to come calling. Their leaders want Nona to be the weapon that will save them from the Nine Houses. Nona would prefer to live an ordinary life with the people she loves, with Pyrrha and Camilla and Palamedes, but she also knows that nothing lasts forever.
And each night, Nona dreams of a woman with a skull-painted face…
Goodreads | Amazon | BookDepository
---
Blood Over Bright Haven by M. L. Wang
Release Date : 2022
Check out information on the book HERE.
Blood Over Bright Haven follows a research mage who uncovers a secret that could change the course of magic forever—if it doesn't get her killed first.
Genre:
I'm tentatively calling this novella "dark academia" although, as with most of my books, I'm not sure how well it fits any one genre. Unlike my other projects (Theonite, Altima, or otherwise) this one will be low on action and high on brooding intrigue.
Setting:
Blood Over Bright Haven takes place in the Altima universe, but in a vastly different era and geographical location from Seven Forsaken, Gunpowder Magnolia, and Sazuma (which all occur within the same couple decades). Unlike those sprawling flintlock epics, this novella focuses on one seemingly utopian metropolis built on a high level of magical technology. It is a standalone, meaning you need absolutely no knowledge of my other works to follow the plot.
Intended Audience:
I'm classing this as an adult fantasy–more due to its dark themes than any explicit language or sexual content.
---
The Faithless (Magic of the Lost #2) by C. L. Clark
Release Date : 2022
Goodreads | Amazon | BookDepository
---
The Lord of Demons (The Burning #2) by Evan Winter
Release Date : 2022
Goodreads | Amazon | BookDepository
---
Outlaw Empire (The Band #3) by Nicholas Eames
Release Date : 2022
Goodreads | Amazon | BookDepository
---
The Dragon's Promise (Six Crimson Cranes #2) by Elizabeth Lim
Release Date : 2022
Goodreads | Amazon | BookDepository
---
The Garden of Empire (Pact and Pattern #2) by J. T. Greathouse
Release Date : 2022
Goodreads | Amazon | BookDepository
Hopefully I can follow through with the list in 2022. I will update the post once more info and links are available. Also, for new announcements that interest me I will also add on to the list as the year goes on.
<3 Are you excited for any of the books on my list? Let me know! <3
---
Thank you for reading!
Twitter | Goodreads | Instagram